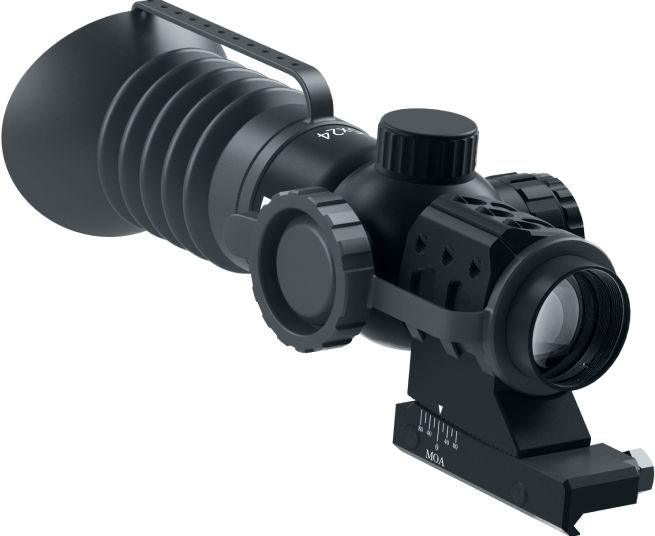 Lightweight and compact CQB style sight with medium (45mm) eye relief to suit lots of various calibres. Field of view 2x wider than traditional scopes. 
Despite it only having a 24mm objective lens, it still has incredible for the size light transmission.
Available with MOA adjustable set of mounts – or without – to be mounted with any single piece 30mm mount.
Prismatic design allows us to make much more compact and lightweight scopes with superior optical performance. Being compact allows for much better Gun/Scope weight distribution, the weight being further back massively reduces fatigue, which allows the shooter to stay out longer and shoot more accurately.
Main Tech:
up to 2X wider field of view when compared to traditional sights
only 130mm  long
focusing down to 6 meters
ED (Low dispersion) Glass and CNC machined precision mechanics 
0.1 mill turrets to match mildot  reticules
waterproof and nitrogen filled
Smart MOA adjustable, CNC machined mounts will help to zero the scope and stay in the middle of its adjustment range. Selection of rails to help place the scope in a comfortable position for the users head on any type of gun, from bullpup to a full-length sporter.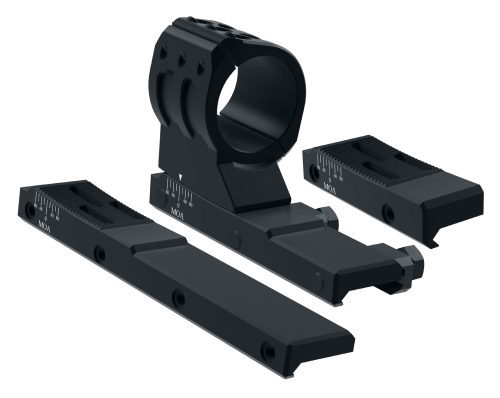 | SKU | Product Description |
| --- | --- |
| 524MD | 5x24 Mildot (without mounts) |
| 524MDR | 5x24 Mildot Rapid (without mounts) |
| 524MD-M | 5x24 Mildot with MOA adjustable mounts |
| 524MDR-M | 5x24 Mildot Rapid with MOA adjustable mounts |
| Parameter | Sight 5x24 |
| --- | --- |
| Magnification, X | 5 |
| Objective Lens Diameter, mm | 24 |
| Eye Relief, inches / mm | 1.77 / 45 |
| Tube size, mm | 30 |
| Field of View, ft@100yds/ m@100m | 34 / 11.4 |
| Minimum Focusing, m | 6 |
| C lick Value (MIL /MOA/cm@100m) | 0.1 / 0.338 / 1 |
| C licks per Revolution | 50 |
| Travel Per Rotation (MIL / MOA) | 5 / 15 |
| Max Elevation Adjustment (MIL / MOA) | 28 / 83 |
| Max Windage Adjustment (MIL / MOA) | 28 / 83 |
| Sight dimensions, mm | 72 x 53 x 130 |
| Sight dimensions, in | 2,8 x 2,1 x 5,1 |
| Weight (without mounts) oz / gr | 10.7 / 304 |
| Weight (with MOA adj. mounts) oz / gr | 15.3 / 434 |
| Waterproof and Nitrogen filled | YES |
| Shock Proof (up to 600G) | YES |